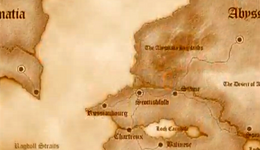 Scotsholm is a country in the
Ragdoll Continent
and is the region where Fortune Summoners takes place.
A war erupted recently, prior to Fortune Summoner's story, between Scotsholm and Abyssinia for reasons unknown. Scotsholm won the war, resulting in the expansion of Chartreux city.
The Adventures of Fuwaru the Apprentice Witch takes place in Scotsholm three hundred years prior to the story in Fortune Summoners.
Cities & Towns
Edit
Locations & Landmarks
Edit